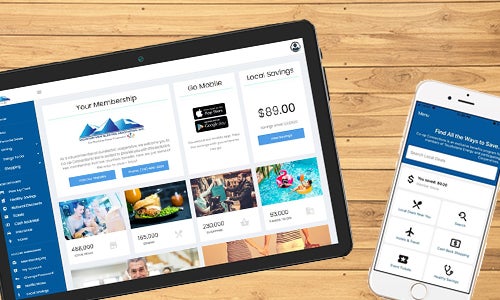 Save with Co-op Connections
As a CREC member, one of the unique benefits you have access to is the Co-op Connections program, which offers incredible discounts on everyday expenses - everything from dining out, getting concert tickets for your favorite group to playing a round of golf, having a tree cut down, and even visiting the dentist. 
How to use the Co-op Connections app
If you haven't already, sign up for a free Co-op Connections account FIRST. You will need to do this before you can use the Co-op Connections app. Once you've registered, on the Co-op Connections website, then download the app from the Google Play Store or the Apple App Store and access the deals and the savings opportunities while you're on the go. Plastic cards are available upon request, however, you will still need access to the Co-op Connections website to determine what deals are available. 
As you use the digital app to save, your online account will keep track of individual savings such as, if you download or print a $5 off deal for an item or service. 
Co-op Connections offers savings from dozens of local businesses and national discount offers such as online shopping and hotel/rental car savings. Once you sign up for a free account, you have access to over 300,000 nationwide deals. 
*Please note: If you wish to visit a business that is a Co-op Connections partner who is offering a discount, please check on the website for what the deal is. Some businesses may only honor the deal as shown on the digital app, or by presenting the specific coupon for their business that you can download and print from the Co-op Connections website (see below for an example). Some businesses may not honor just presenting your plastic card when on site. If you're just not sure, contact the business directly before you go. Also, please check if there is an expiration date for the deal. 

Co-op Connections Healthy Savings
Healthy savings discounts for select dental, vision, hearing, chiropractic and lab services are also available. These discount opportunities can provide stand-alone benefits for the uninsured or can supplement insurance coverage in many cases. And of course, you can still save up to 85 percent on prescription medication at 60,000-plus pharmacies. 
Since the Co-op Connections Rx Healthy Savings discount began, cooperative members served by 500 participating Touchstone Energy cooperatives nationwide have saved more than $100 million, thanks to Touchstone's agreement with pharmacy benefits manager, New Benefits.
When you need to fill a prescription, show your Co-op Connections card (on the app or the plastic card) to the pharmacist, who will then use the information on the back of the card to compute the price.
Expected discount savings should range from 10% - 85%. Savings vary with each prescription. You can expect to receive the highest savings on an established drug that offers a generic option. 
When you present your digital or plastic card, the pharmacist puts the Card's Group and Member numbers into the pharmacy's computer system, along with the current retail price. The computer sorts through the pharmacy's various contracts and agreements and will confirm the amount the pharmacy has agreed to accept for a particular medication, as well as the price the member will need to pay at the time of purchase. For example, if a pharmacy sells a generic drug for $4 but its Co0op Connections contracted rate is $7, the system will tell the pharmacist to charge $4.
Questions? Contact rsmerkar@cuivre.com and please remember to put "Co-Op Connections Card" in the subject line.