CREC's first rate adjustment in six years
To address the rising costs of wholesale power rates and to ensure the cooperative continues to provide safe and reliable energy to its members, CREC's Board of Directors has approved an increase in residential rates which equates to about 3.25% for the average user. This includes a 10¢ adjustment to the monthly service availability fee. The new rates will go into effect on April 1, 2022.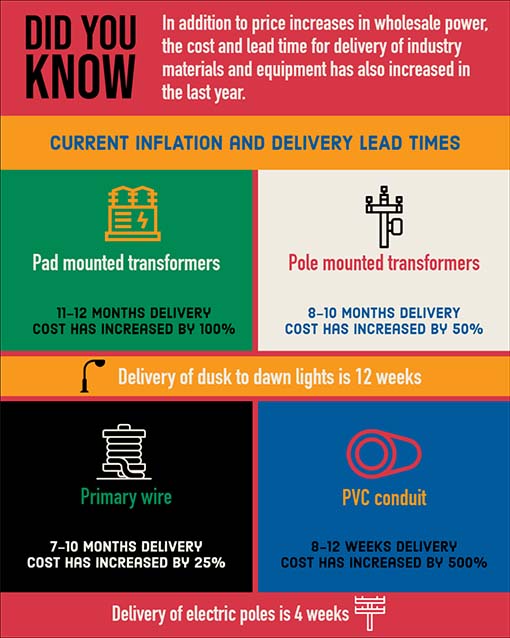 The co-op's focus is always to provide safe, reliable energy to its members every day at the most reasonable rate possible. CREC has not had a rate adjustment since 2016. While the costs of wholesale power have escalated annually, the cooperative has shouldered the impact of these adjustments throughout the years to hold its rates steady for members. To continue keeping CREC finances strong, the Board of Directors approved a rate adjustment to become effective in April 2022 to ensure the co-op can meet expenses and remain fiscally sound. Even with the adjustment, CREC rates will remain among the lowest in the country.
After reviewing current wholesale rate formulas, expected adjustments in the coming years, and a cost of service analysis, a new rate structure was developed taking all of these factors into consideration. Starting April 1, 2022, the cooperative will implement an increase that equates to about 3.25% for the average user (1,400 kwhs). This includes a slight adjustment to the monthly service availability fee, from 70¢ to 80¢ per day. Throughout CREC's history, rate increases have been minimal, and when it was financially possible, the cooperative decreased its rates.  
Service availability can be confusing, especially because this charge varies among providers of electricity. CREC's newly adjusted service availability charge of 80¢ per day covers the cost of bringing electricity to your home 24/7 – this does not include energy. It is what covers your share of the cooperative's fixed costs to maintain the system that makes electricity available to you. This charge is the same every month, it doesn't matter how much or how little power you use. The fee appears as a line item on your bill.
CREC is not the only energy provider or even organization/company to adjust the cost of its services/products. The current economic landscape of both our country and the globe continues to impact businesses, families, and individuals alike. 
Yes. As members, you are shareholders of the cooperative. While CREC is meticulous about considering all factors that affect how the co-op forecasts its annual expenses and revenues, there are some things we cannot control, such as weather, which impacts energy usage. However, one thing that never changes is the fact that when we collect more revenue than our costs, you, the member, get your share back in the form of capital credits.
The adjustments will become effective April 1, 2022, which means that your bill with April usage will be the first time you'll see the change in rates. 
Unlike other companies, CREC encourages you to use less of our product and offers resources for how to save both energy and money. 
If you have an online profile set up with CREC, you can monitor your usage of energy through our member portal online or through our MyCuivre app.
CREC also offers several payment options that you can choose from, to work the best for your budget:
•    MyPower – allows you to choose your payment frequency and pay as you go. You can monitor your energy use and credit balance daily, weekly, or monthly to match your budget.
•    Budget Billing – allows you to make even monthly payments to reduce the impact of seasonal factors that can affect your bill.
•    Auto-Pay – allows you to have payments automatically posted to your credit or debit card, or paid from your bank account.

There are also easy ways to save money and energy at home through Take Control and Save®, a cooperative effort for energy efficiency. The program provides information on rebates, and how saving energy can be easy, through home comfort, appliances, lighting, smart electricity, solar, and much more. 
For emergency assistance with paying energy bills, the North East Community Action Corporation (NECAC) lists several programs that offer help, such as LIHEAP. 
The co-op's focus is and will always be to deliver electricity to you that is affordable, reliable, and safe. We work with our generation/transmission cooperative to keep wholesale rates reasonable and reliability high, but also to represent you on the state and federal levels, and ensure that other interests do not unfairly burden your cost of power.  
CREC will provide any new information about new rates as it becomes available in its monthly newsletter, Current Times, contained within the state rural electric cooperative publication, Rural Missouri, as well as our e-newsletter, CREC Connections, and our website, cuivre.com. Call us with questions at 800-392-3709.